Customised
Our data management service aims to provide clients with customised data management solutions for clinical trials. Our clinical data managers are all-rounders: with medical and life science backgrounds as well as targeted clinical data management experience, they communicate effectively with all kinds of professionals in the field of early drug development.

Safe and certified
We strive to uphold the pillars of Good Clinical Practice (GCP): database quality, standardisation and integrity. Along with being GCP compliant, our services abide by the Dutch GDPR Implementation Act and European regulations. Data is protected by our secure backup system that includes incremental and full backups, with zero downtime. Our team includes certified medical coders who can encode your data to the applicable dictionaries (e.g. MedDRA, WHO Drug / WHO-DDE, WHOCC). Maintaining these standards across all our work ensures that collaboration runs as smoothly and efficiently as possible, optimising the Study Life Cycle.
Study Life Cycle
The Study Life Cycle embodies the various stages of phase I/II studies. We use this structure as a blueprint for our data management services. From set-up to clinical conduct, through analysis and reporting to finalisation, each stage is paralleled by the pre-defined study phases in Promasys ®.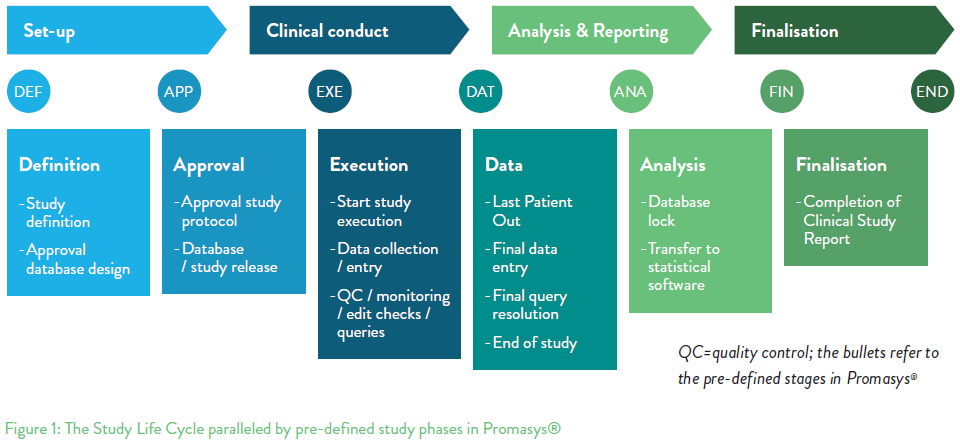 Promasys®
Promasys® is our clinical data management system and is (CDMS) validated with IQ/OQ/PQ in accordance with GAMP 5 and compliant with 21 CFR part 11. Promasys® not only allows direct bedside data entry using iPads, but also connects to various information systems, such as the MUSE TM Cardiology Information System for integrating, managing, and streamlining the flow of cardiac information.